Agriturismo Villa di Capovento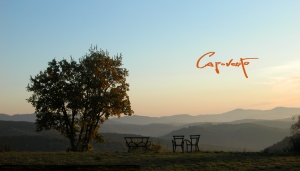 BOOKING FORM - RICHIESTA PRENOTAZIONE

---
Sulle dolci colline del chianti classico, immersi nel silenzio e nel verde della campagna...lontano da ogni via e affacciati su panorami immensi, sei camere d'epoca dotate di ogni confort.
Riceviamo i nostri ospiti in ambienti arredati con mobili d'epoca e tappezzerie artigianali, l' accoglienza è curata direttamente dalla proprietà e l'ambiente è intimo e familiare. Si cucina ogni giorno per pranzo o cena, con menù semplici di territorio, puntando esclusivamente sulla qualità e sull'origine del prodotto. In azienda produciamo Olio Biologico Dop Chianti Classico che viene utilizzato a crudo su molte preparazioni e piatti tipici, che insieme ai vini della zona arricchisce e valorizza ancor più la scelta di assaprare un territorio così unico. Pane, Pasta e Dolci fatti in casa per la colazione, salmi e formaggi tutto made in Tuscany....Vi aspettiamo! - Ettore e Stella


Ubicazione : Villa di CAPOVENTO si trova nel cuore del Chianti Classico, lungo la strada che da Castellina in Chianti (4 Km) attraversa vigneti e oliveti, conducendo fino a Vagliagli. Si trova molto vicina a Siena (18 Km) e Firenze (45 Km).

La Storia

Le Camere : Villa di CAPOVENTO ha sei ampie camere (di cui due molto grandi), tutte arredate con mobili in stile e di antiquariato.
Ogni camera è dotata di:



TV satellite
telefono
frigobar
cassetta sicurezza
aria condizionata
riscaldamento centralizzato


Tutte le camere hanno il bagno provvisto di doccia e asciugacapelli.

La colazione viene servita a buffet, mentre per gli ospiti che rimangono una settimana, alla domenica sera viene offerta una cena di benvenuto, a base di specialità toscane.

Piscina: Per gli ospiti è disponibile una grande piscina, ai bordi del parco, in posizione panoramica.



---
Dove siamo:

Per chi viene da Sud - Autostrada A1, uscita Val di Chiana, direzione Siena (40 Km).
In prossimitÓ di Siena, imboccare la tangenziale che poi prosegue per Firenze.
Dopo le uscite di Siena, proseguire sulla superstrada in direzione di Firenze, quindi uscire a Badesse (circa 8 Km).
Appena fuori dallo svincolo della superstrada, girare a sinistra.
Si attraversa il borgo di S.Leonino e, dopo poco, ci si immette sulla SS 222 Chiantigiana (5-6 Km in tutto): seguire le indicazioni per Castellina in Chianti (a sinistra).
Proseguire sulla 222 in direzione Nord (Firenze).
Si attraversa il piccolo borgo di Fonterutoli e, dopo circa 5 Km, poco prima di Castellina in Chianti, in localitÓ Croce Fiorentina, girare a destra seguendo le indicazioni di CAPOVENTO.
Percorrete la strada sterrata per 2,5 Km e siete arrivati

Per chi arriva da Nord - Autostrada A1 Firenze- Roma, uscita Firenze Certosa; prendere la superstrada Firenze Siena; oltrepassare S.Casciano, Bargino, Tavarnelle; alll'uscita successiva di San Donato, girare a sinistra e superare il paese di San Donato, per arrivare a Castellina in Chianti (11Km circa).
Qui, girare a destra in direzione Siena, sulla SP 222.
Dopo 2 chilometri circa, in localitÓ Croce Fiorentina, girare a sinistra seguendo le indicazioni di CAPOVENTO.
Percorrete la strada sterrata per 2,5 Km e siete arrivati

---
On the hills of Chianti Classico, surrounded by silence and the countryside ...
far from any roads, overlooking the vast countryside, six vintage
rooms come ready with every comfort ... Capovento!

We welcome our guests with "what we love most": the
Tuscan countryside, good food and the opportunity to relax in a unique place.... Not just a farm, but a unique resort, you can find a selection of
fine home made bread, cakes, and organic cuisine made with local products.

Also available a wine bar, swimming pool, library, cookery course and you can also try the organic olive oil( DOP Chianti Classico) we
produce.

Good food, friendly atmosphere and a family welcome, the complete silence we share with pleasure with all our customers.

There are two spacious Superior bedrooms, a large Junior suite and three double Standard bedrooms. From them guests can admire the landscape around the property. One Superior room and the Junior suite afford their own terrace. Five bedoorms are situated on the first floor and one on the ground floor. Each affords its own bathroom. They are equipped with shower-bathtub, Hamman or Jacuzzi.
.

Location: Villa di CAPOVENTO is located in the heart of Chianti country along the shady road that runs from Castellina in Chianti to Vagliagli1, and it is very close to Siena (18 Km) and Florence (45 Km).

Rooms: Villa di CAPOVENTO has two large suites and four double bedrooms all with private bathrooms, furnished with stylish old furniture and provided with:

telephone
TV-satellite
central heating
air conditioning
safe box
frigobar


A rich buffet breakfast is served every morning. A wellcome dinner with authentic Tuscan dinner is offered on Sunday night to guests remaining for a week.

Swimming Pool: Guests can also enjoy a very large swimming pool, set in the park, in a panoramic position.
---
Where we are:

Coming from the North: On the Autostrada A1 Firenze Roma, South direction, exit at Firenze-Certosa and take the superstrada for Siena.
Exit at S. Donato and follow the signs for Castelllina in Chianti. In Castelllina take the road 222, direction Siena, and in Croce Fiorentina (2 Km from Castellina) turn links, at the signs indicating CAPOVENTO.
Proceed on the unpaved road for 2,5 Km and you are arrived
Coming from the South: On the Autostrada A1 Roma Firenze, exit at Valdichiana and take the S.S. 326 Siena- Bettolle following the signs for Siena.
Without leaving the main road, continue in the direction of Florenze and exit at Badesse (about 10 Km from Siena).
Turn left and in few minutes you will reach S.S. 222.
Turn left - Castellina direction - and in Croce Fiorentina turm right at the signs indicating CAPOVENTO.
Proceed on the unpaved road for 2,5 Km and you are arrived