Dimora Storica Palazzo Leopoldo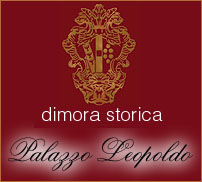 BOOKING FORM - RICHIESTA INFORMAZIONI

---
DIMORA STORICA PALAZZO LEOPOLDO
Un hotel nel Chianti? Tra gli hotels nel Chianti, l'Albergo Palazzo Leopoldo, nel cuore della Toscana, a Radda tra Siena e Firenze, si distingue come palazzo storico di pregio, dove si fondono romanticismo, charme, comfort, eleganza e stile.
Nel fascino di questa villa medievale, che dispone di camere con vista e spaziose suites con caminetti d'epoca ed affreschi, si possono organizzare anche cerimonie, piccoli meeting oppure una piacevole vacanza in relax, facendo escursioni, anche a piedi, o scoprendo la bellezza del paesaggio in bicicletta.

La colazione viene servita nella cornice della cucina originale del 1700.

A Radda in Chianti, cittadina che conserva tuttora il suo fascino medievale, si trova Palazzo Leopoldo, una villa signorile di stile ottocentesco, ma dalle origini molto più antiche.


Storia: L'edificio risale al '300, come testimonia un porticato ed archi in pietra e vi si ospitavano i pellegrini in viaggio.
In documenti del 1434 il Palazzo, infatti, è già descritto come 'hospitale'.


Le Camere: Oggi, dopo il minuzioso restauro che ha ridato al Palazzo il suo fascino, qui vengono accolti i nostri Ospiti.
Le camere, le suites e gli arredi d'epoca riflettono lo stile raffinato dei 'Signori' toscani e riuniscono splendore antico con massimo comfort moderno.


Interni: La signorilità e l'imponenza della struttura si evidenziano negli ampi spazi che caratterizzano la Casa.


Colazione: La prima colazione viene servita nella stupenda cucina del XVIII secolo o nella terrazza con vista sui vigneti ed i castelli del Chianti.


Ristorante: Al Ristorante «La Perla del Palazzo», in un ambiente accogliente, si potrà gustare la vera cucina toscana accompagnata da un'ottima selezione di vini locali e nazionali.


Centro Benessere: La vostra vacanza sarà resa ancor più entusiasmante dalla possibilità di frequentare il centro benessere. Saranno disponibili sauna, solarium, idromassaggi, trattamenti estetici e vari tipi di massaggio.





---
Dove siamo:


---
DIMORA STORICA PALAZZO LEOPOLDO
Accommodation in Chianti? The Palazzo Leopoldo Hotel, in Radda in Chianti, in the heart of Tuscany, between Siena and Florence, is an historical and romantic palace, where accommodation is synonym of beauty, comfort, charm, elegance and style.
In this fascinating medieval villa, made up of rooms with view and spacious suites with frescoes and old fireplaces, one can arrange ceremonies, small meeting or, simply, relaxing stay, exploring the landscape or walking and biking around.

The breakfast is served in the frame of the original 1700 kitchen.

Situated in Radda in Chianti, hill town that has remained unaltered in its medieval charm, PALAZZO LEOPOLDO is a patrician villa where history, art and modern comforts meet to provide that certain old-world touch.


Accomodation: The rooms, junior suites and elegant Suites still reflect the refined style of the Tuscan nobility and have undergone accurate restoration work intended to offer top comfort to the guests, yet maintaining the former splendour and charm.


Interiors: Accurate service and warm welcoming: PALAZZO LEOPOLDO'S rooms and suites offer sophisticated elegance in historical ambientation .


Breakfast: Breakfast is served in the magnificent 18th century kitchen or on the terrace overlooking the vineyards and castles of the Chianti.


Restaurant: At «La Perla del Palazzo» one can taste the real Tuscan food in a warm atmosphere accompanied by an excellent selection of local and Italian wines.


Health Centre: Make your stay at Palazzo Leopoldo still more pleasant, enjoying Health Centre, with massages, sauna, solarium and beauty treatments.





---
Where we are:

Dimora Storica Palazzo Leopoldo
Via Roma, 33, Radda in Chianti, SI, Italy
Tel. +39 0577735605
Fax. +39 0577738031
Contact: leopoldo@chiantinet.it
vedi anche: http://www.palazzoleopoldo.it/