Hotel Continentale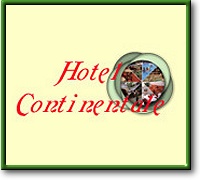 BOOKING FORM - RICHIESTA PRENOTAZIONE

---
HOTEL CONTINENTALE
Ubicazione: L'hotel Continentale è situato nel cuore di Chianciano, sulla piazza principale a pochi passi dalle Terme.

Gestito direttamente dai proprietari, si avvale della competenza e del lavoro di ottimi collaboratori.

Al secondo piano è a disposizione degli ospiti una stupenda terrazza con solarium e piscina.

Il Bar: Il bar è ampio e accogliente, fornito di pasticceria di produzione propria.
Qui è anche possibile gustare l'ottimo gelato artigianale di produzione della famiglia Michelangeli.

L'hotel dispone di ampio parcheggio e garage, di un giardino esterno con tavoli e ombrelloni, dove godere del clima mite della zona.

Le Camere: L'hotel dispone di 42 camere con vista, disposte su tre piani, con ascensore. Sono tutte dotate di bagno privato con vasca o doccia, aria condizionata, televisore e telefono.

Spazi Comuni: Sono a disposizione degli ospiti diverse salette comuni, nelle quali poter trovare tranquillità e relax in compagnia di una buona lettura, dove poter scambiare quattro chiacchiere in compagnia degli altri ospiti dell'hotel o più semplicemente, rilassarsi dopo una giornata trascorsa a fare attività sportiva in uno dei tanti impianti messi a disposizione degli ospiti dal Comune di Chianciano, o dopo aver goduto delle bellezze naturali e artistiche della zona...

Il Ristorante: Nell' ampia sala ristorante, esclusivamente a disposizione degli ospiti dell' hotel è possibile gustare gli eccellenti piatti tipici della cucina toscana.
Il menù vario e ricercato, è curato personalmente dai titolari. Vengono proposte specialità italiane e internazionali, sono a disposizione degli ospiti buffet di antipasti e insalate, è inoltre garantito un ottimo servizio, pronto a rispondere alle richieste del cliente più esigente.


---
Dove siamo:


---
CONTINENTALE HOTEL
Location: The Hotel Continentale is situated in the heart of Chianciano, on the main square, a few minutes walk from the town's renowned Baths.

The hotel is run directly by the owners, the Michelangeli family, who also count on the work and experience of an excellent team.

At the second floor, guests can enjoy the solarium and the swimming-pool on a splendid terrace.

Bar: The large and confortable bar offers an array of fine home- made pastries.
Here guests can also taste the excellent ice-cream prepared by the Michelangeli family.

The Hotel Continentale has a large parking area and a garage; facing the hotel is a garden furnished with tables and beach-umbrellas in which to enjoy the mild climate of the region.

Guestrooms: The hotel has 43 bedrooms on three floors served by an elevator, each with a view. The bedrooms are all provided with private bathroom (tub or shower), air conditioning, telephone and television.

Communal Areas: Guests have at their disposal a number of communal rooms, where they can find a quiet corner to relax with a good reading, meet other guests of the hotel or, simply, relax after some activity at one of the several sport facilities of the town of Chianciano, or after a day spent visiting the natural and artistic attractions of the surroundings...

The Restaurant: The large, comfortable restaurant, exclusively for the hotel's guests, offers delicious typical dishes of Tuscan cuisine.
The wide and selected menu, personally chosen by the owners, includes Italian and International specialities; guests may also serve themselves at the buffet with starters and salads.
first-rate service is guaranteed, able to satisfy the most demanding clientele.


---
Where we are:

Hotel Continentale
Piazza Italia, 56, Chianciano Terme, SI, Italy