Relais La Saracina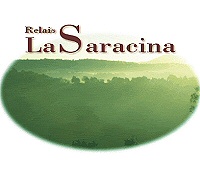 BOOKING FORM - RICHIESTA PRENOTAZIONE

---
RELAIS LA SARACINA
La Saracina, un relais intimo ed elegante per viaggiatori raffinati nel cuore della Toscana.


La Saracina, un antico podere su una collina ristrutturato con gusto e trasformato in uno splendido e confortevole relais, citato in tutte le più importanti guide italiane e straniere, è la sosta ideale per visitare il sud della Toscana, Siena e poi Firenze, Roma e la vicina Umbria, tutte a meno di due ore di auto.


Colazione: Ma prima di mettervi in moto, l'accogliente sala delle colazioni, inondata dalla calda luce del mattino, vi offre l'emozione di un buffet carico di leccornie.

La Saracina non serve gli altri pasti della giornata, ma nella zona sono presenti buone trattorie e rinomati ristoranti che saremo lieti di consigliarvi.


Le Camere: La Saracina ha solo 6 camere, finemente arredate, ognuna in modo diverso, affacciate con il loro ingresso indipendente sul bellissimo giardino mediterraneo di lavande e rosmarini. Tutte pavimentate in cotto, provviste di camino e di una lussuosa e ampia sala da bagno con vasche Jacuzzi per idro-massaggio.

Relax: Chi ama riposarsi, dal bordo della deliziosa piscina in mezzo agli ulivi può godere la tranquilla visione delle colline circostanti, con Pienza e il bellissimo borgo medievale di Monticchiello sullo sfondo, entrambi raggiungibili a piedi attraverso incantevoli strade di campagna dove il silenzio è interrotto solo dal tintinnio dei campanelli delle greggi.




---
Dove siamo:


---
RELAIS LA SARACINA
La Saracina, an intimate and elegant relais for the discerning traveller in the heart of Tuscany.


La Saracina, an old farmhouse on top of a hill, tastefully restored and trasformed into a splendid and comfortable relais, mentioned in the most important travel guide books and magazines, is the perfect place from wich to visit the south of Tuscany, Siena, but also Florence, Rome and Umbria, all of wich are less than a two-hour drive away.


Breakfast: But before climbing into your car, you won't be able to resist the breakfast- room, flooded with the bright morning light, where you will find a buffet to tempt your tastebuds.


La Saracina provides breakfast only, but in the area there are many excellent trattorias and renowned restaurant, amongst the best in Italy, that we are only too happy to recommend.


Guestrooms: La Saracina has only six bedrooms, each tastefully furnisched in various styles, and each opening onto the beautiful Mediterranean garden of lavender and rosemary. All the rooms, most having their own fireplace, have terracotta stone floors and luxurious bathroom complete with Jacuzzi.

Relax: If it's rest and tranquillity you're seeking, you can relax by the charming swimming pool nestled among the olive trees, and enjoy the peaceful view of the surrounding hills, with Pienza and the beautiful medieval town of Monticchiello in the distance, both of wich are within easy walking distance along enchanting country lanes where the silence is interrupted only be the tinkling of sheep bells.




---
Where we are:

Relais La Saracina
S.S. 146 Km 29,700, Pienza, SI, Italy