Hotel Saturno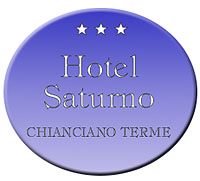 BOOKING FORM - RICHIESTA PRENOTAZIONE

---
HOTEL SATURNO
Ubicazione: L'albergo è situato in una zona tranquilla e con un vasto panorama sulla sottostante Val di Chiana.
La distanza dalle famose Terme di Chianciano è di soli trecento metri, e poco più dal centro cittadino.
L'albergo è facilmente raggiungibile sia dall'autostrada (7 km), sia dalla stazione ferroviaria ( 15 km dalla Firenze - Roma ).

Escursioni: Oltre alle vicine e facilmente raggiungibili città storiche di Montepulciano, Pienza, Cortona e la Val d'Orcia, in un ora di macchina dall' Albergo si possono visitare città come Siena, Firenze, Arezzo, Perugia, Assisi, Viterbo e la stessa Roma è raggiungibile in 75 minuti di treno o 90 di auto.

Cucina: Dotato di tutti i comfort, offre una cucina tipica Toscana molto accurata e genuina.

Servizi: TV in camera, radio in camera, Telefono con selezione diretta, Ascensore, Bar, Giardino, Parcheggio non custodito, Si accettano carte di credito, Custodia valori.
---
Dove siamo:


---
SATURNO HOTEL
Location: The hotel is situated in a peaceful area from which yuo can enjoy a large view on the underlyng "Chiana-valley".
It's only 300 mt. from famous"Chianciano Terme S.P.A." and a juast little bit more from the centre away.
You can reach the hotel very easily throught the motorway A/1 (7 KM), line Florence-Rome.

Excursions: Just in the surroundings of our town you can visit a few splendid, historical spots such as "Montepulciano, Pienza, Cortona" and the well-known Orcia-valley.Then at one-hour distance, you can olso see the classical cities of Siena, Florence, Arezzo, Perugia, Assisi, Viterbo and even Rome which takes only 75 min. by train or 90 min. by car.

Cuisine: It has got all comforts and offers a genuine, verry accurate tipical tuscan cuisine.

Services: TV in room, radio in room, Direct dial telephone, Lift, Bar, Garden, Unattended car park, Credit Cards Accepted, Safes.
---
Where we are:

Hotel Saturno
Via V. Alfieri, 23, Chianciano Terme, SI, Italy