Centro Turistico La Moscadella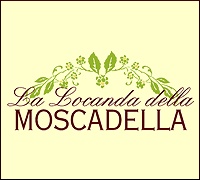 BOOKING FORM - RICHIESTA PRENOTAZIONE

---
CENTRO TURISTICO LA MOSCADELLA
Per vivere una vacanza nel cuore della Toscana. A due passi da Pienza e Montalcino troverete un albergo con camere, suite e appartamenti arredati in perfetto stile toscano ed un ristorante dove potrete degustare i piatti e gli ottimi vini di questa terra: Brunello di Montalcino, Nobile di Montepulciano.

Camere, Suite ed Appartamenti: Gli ospiti della Locanda avranno a disposizione 6 camere doppie e/o matrimoniali, 3 junior suite, 2 suite e 2 appartamenti con angolo cottura completamente indipendenti ricavati nell'antistante annesso (ex porcilaia). Tutti gli alloggi sono dotati di aria condizionata, telefono, televisione, frigo-bar, presa internet e sono arredati in classico stile Toscano.

Giardino e Piscina: Gli ospiti del centro hanno a disposizione un panoramico giardino dal quale godere del suggestivo panorama della campagna circostante in compagnia di tanta quiete e di un buon bicchiere di vino, nelle migliori giornate potranno usufruire della simpatica piscina e del suo caratteristico bar.

Altri Servizi: Al piano terra della locanda gli ospiti potranno usufruire di un ampio salone con biblioteca e focolare nel quale potersi intrattenere in assoluto silenzio per una piacevole lettura. Durante il soggiorno gli ospiti avranno la possibilità di partecipare ad escursioni eno-culturali nelle più famose località della zona.

Taverna di Apollonia: La Taverna di Apollonia offre ai suoi ospiti una buona scelta di piatti cucinati secondo la tipica tradizione Toscana da degustare in un delle due simpatiche salette interne o nel suggestivo giardino esterno. Tra i piatti tipici più importanti si consigliano i Pici (spaghetti fatti a mano con acqua e farina) , la ribollita (zuppa di verdura e pane), la Fiorentina e la trippa. Piatti questi che meritano di essere accompagnati da un buon vino scelto nella carta del wine bar composta essenzialmente dalle migliori etichette di Montalcino "Brunello" e di Montepulciano "Vino Nobile"; degustazione che può proseguire nel dopo cena nel sottostante "Buonaventura Wine Bar" ricavato in quelle che furono le cantine della ridente unità poderale. Nella stagione estiva capiterà frequentemente di poter assaporare i piatti della Taverna e degustare i vini del wine-bar nel giardino in compagnia di musica dal vivo, genere Jazz, Blues, Country e i migliori repertori di Piano Bar.

Bonaventura Wine Bar: Il Bonaventura Wine Bar,ricavato nei locali un tempo adibiti a granaio, sempre aperto per i clienti del Centro Turistico, offre la possibilità di degustare ed acquistare le proposte presenti nell'importante Carta dei Vini che pur privilegiando la produzione toscana, presenta al suo interno le più importanti denominazioni italiane.

Attività: Il Centro Turistico La Moscadella offre la possibilità ai suoi ospiti di poter effettuare attività eno-culturali e sportive con la certezza di far vivere esperienze indimenticabili.


Come raggiungerci:

Da Roma: Autostrada A1 Direzione Firenze
Fa Firenze: Autostrada A1 Direzione Roma

Usciti dall'autostrada girare a destra seguendo le indicazioni per Siena. Percorso circa 5 km della superstrada Perugia-Siena uscire a Sinalunga seguendo le indicazioni Trequanda (alla prima rotonda a sinistra fino allo stop, qui a destra e subito a sinistra proseguire per circa km 1,5 fino al bivio a destra per Trequanda). Giunti a Trequanda proseguire per Montalcino fino a raggiungere Montisi dove, passando per la circonvallazione, terminata la discesa, troverete sulla sinistra l'indicatore giallo per Castelmuzio.


La Moscadella è il primo casale sulla vostra sinistra prima di arrivare Castelmuzio.




---
Dove siamo:


---
CENTRO TURISTICO LA MOSCADELLA
To enjoy a holiday in the heart of Tuscany. In the surroundings of Pienza and Montalcino, the hotel complex Moscadella is an ancient farmhouse restored as a charming hotel with rooms, suites and self catering apartments. At the restaurant, guests can enjoy traditional Tuscan dishes and taste the best wines such as Brunello di Montalcino and Nobile di Montepulciano.

Rooms, Suites and Apartments : Hotel guests can choose from 6 double/twin bedrooms (each with private bathroom with shower) ; 3 junior suites, 2 master suites and one single and 1 double bedroom which are reserved for people with walking difficulties. There are also 2 self catering apartments located in the independent cottage. All the rooms have been carefully furnished with traditional Tuscan antiques, wrought iron beds also providing all modern comforts including air conditioning, telephone, mini-bar, satellite television and internet plug.

Garden and Swimming pool: The large garden boasts a dramatic panorama over the countryside, the ideal place for relaxing in total peace.
During summer our guests can enjoy the unusual swimming pool and with its even more unusual bar.

Taverna di Apollonia: The restaurant "Taverna di Apollonia offers san excellent choice of typical Tuscan dishes to be enjoyed in either one of the 2 inviting and elegant dinning rooms located in the former stables or, during summer, on the panoramic terrace. From the menu we can suggest the Pici (thick home made spaghetti), the Ribollita (vegetable and bread soup), the T-bone steak Fiorentina and tripe accompanied by a wide choice of the best wine of the area including Brunello di Montalcino and Nobile di Montepulciano. After dinner wine tasting can continue at the "Buonaventura Wine Bar" in the ancient cellars. During summer, dinners are often accompanied by live Jazz, or country music.

Bonaventura Wine Bar: Bonaventura wine bar located in the former cellar offers a wide choice of the best wine. Here guests can taste and buy a selection of the best Tuscan or Italian wine such as Brunello di Montalcino or Nobile di Montepulciano to name a few. In March and April live music bands will play at night.

Activities: The "La Moscadella" Tourist Center offers its guest the opportunity to enjoy unforgettable eno-cultural and sporting activities.


How to reach us:

From Rome Take the direction for Florence "Firenze" Motorway "Autostrada A1"
From Florence Take the direction For Rome Motorway "Autostrada A1"

Stay on the A1 until you reach the exit for "Val di Chiana" (also indicated Siena, Bettolle) After passing through the toll gate, turn left onto the main road. About 1/2 a mile on you will come to the central crossroad of Bettolle. Take a right following signs for Sinalunga. Follow that road all the way, passing "Guazzino". Arriving at a roundabout go straight on for about 50 mettres and go left (indication for Torrita di Siena, Amorosa...). At the next intersection go left. Follow that road out of the town and follow the first indication for Trequanda to the right. Follow that road uphill, pass Trequanda continuing towards Montisi. Take the ring road around Montisi and turn left to Castelmuzio (yellow sign).


Moscadella is the first large building on your left before entering Castelmuzio.




---
Where we are:

Centro Turistico La Moscadella
Loc. La Moscatella - Fraz. Castelmuzio, Trequanda, SI, Italy