Hotel Roberta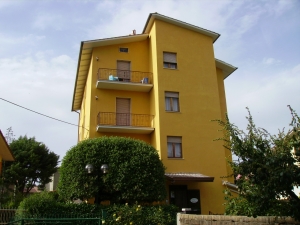 BOOKING FORM - RICHIESTA PRENOTAZIONE

---
L'Albergo Roberta si trova nella splendida cornice del Comune di Sarteano, roccaforte medievale nel sud della Toscana. L'Albergo è situato al centro del paese. La particolare localizzazione, peraltro, consente all'ospite di assaporare i gusti di una tradizione culturale, storica e culinaria tipica del centro Italia. I proprietari dell'albergo gestiscono la struttura improntando il rapporto con l'ospite in modo personalizzato, sempre pronti a "viziare" i propri clienti nei momenti di relax, ma anche accompagnandoli alla scoperta dei valori tradizionali propri della terra di Toscana. L'Albergo diviene il luogo ideale per una vacanza indimenticabile fra la quiete dei boschi ed il relax nelle piscine termali site a pochi metri dall'Albergo, il cui aroma dei piatti tipici e delle specialità toscane è motivo di richiamo per chi apprezza la gestione familiare. L'Albergo Roberta dispone di 15 camere arredate in modo confortevole e familiare.

---
Dove siamo:
Seguire l'autostrada A1 e prendere l'uscita Chiusi-Chianciano. Svoltare a sinistra e proseguire verso Sarteano. L'albergo Roberta si trova in centro.

---
The Hotel Roberta lies in Sarteano, a medieval stronghold situated in the south of Tuscany. The hotel is located in the centre of Sarteano. This particular location allows the hotel's guests to taste a cultural, historic and culinary tradition typical of the centre of Italy. The owners manage the hotel directly directing the relationship with the guest side, always ready to "spoil" their guests during their relaxing moments, but also to help them discover the traditional values which are typical of Tuscany. Therefore the hotel is the ideal place for an unforgettable holiday, in the peaceful woods and the relax in the spas situated a few metres from the hotel. The flavour of the genuine Tuscan specialities is an attraction for those who appreciate family management. The Hotel Roberta has 15 rooms, which are comfortably and familiarly furnished.
---
Where we are:
Take the Motorway A1 and exit at Chiusi- Chianciano. Turn to the left and follow to Sarteano. The Albergo Roberta lies in the centre.
Hotel Roberta
Via Adige, 19, Sarteano, SI, Italy