My Onehotel Radda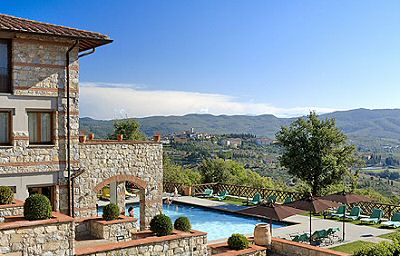 BOOKING FORM - RICHIESTA PRENOTAZIONE

---
My Onehotel Radda sorge a Radda in Chianti, in una terra ricca di storia e di arte, in uno scenario naturale di rara bellezza.

L'Hotel offre una raffinata ospitalità per una vacanza in Toscana, nella splendida terra del Chianti, per un soggiorno tra amici, un invito a cena, o per organizzare una riunione , un seminario o semplicemente per trascorrere un soggiorno in completo relax, senza rinunciare a lusso e comfort.

Radda in Chianti è un antico borgo nel cuore delle colline chiantigiane; popolato sin dall'epoca etrusca, conserva dal periodo medievale la struttura ed alcune costruzioni, tra cui torri e mura, la Chiesa di Sa Niccolò ed il Palazzo del Podestà. Oggi la zona di Radda in Chianti ha riscoperto la propria vocazione turistica grazie alle grandi tradizioni enogastronomiche abbinate ai tesori storico-naturalistici, di cui é disseminata, che ne fanno una vera oasi dall'invidiabile fascino. La splendida vista delle morbide colline toscane, il lusso dei particolari, rende il vostro soggiorno un sogno ad occhi aperti.

My Onehotel Radda in Chianti dispone di 58 camere, di cui 4 junior suite: tutte le stanze sono finemente arredate e dotate di ogni comfort. I bagni delle camere sono elegantemente rifiniti, curati nei dettagli con un attenzione particolare alla linea cortesia.

---
Dove siamo:


---
Hotel Radda is located in an area rich in history and art, in a natural setting of rare beauty, and offers a unique experience in hospitality for a holiday in Tuscany in the splendid Chianti region, for a stay with friends, for a dinner invitation, for work meetings or seminars or simply to spend a holiday in complete relaxation without renouncing luxury and comfort.
A bar, restaurant, wellbeing centre and wonderful heated swimming pools are all at your disposition for a luxurious experience of wellbeing and peace in the most loved Italian region in the world.
When tranquility is a luxury that cannot be relinquished.
Radda in Chianti is an old village at the heart of the hills in Chianti and has been inhabited since the etruscan era. The village has preserved its wonderful structure and several buildings such as towers, walls, the beautiful church of San Niccolò and the palace of Podestà from the medieval period.
Today the area of Radda in Chianti has rediscovered its vocation for tourism thanks to the great eno-gastronomic traditions and the historical and natural treasures which are located in the area and which make it a real oasis of enviable appeal. The splendid view of the tuscan hills and the luxurious details will make it your dream stay.
---
Where we are:

My Onehotel Radda
Loc. Calvana, 138, Radda in Chianti, SI, Italy