Podere Spedalone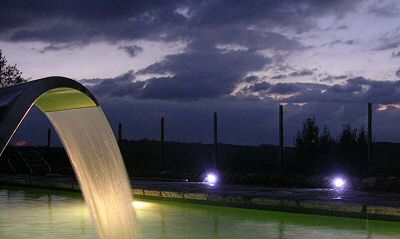 BOOKING FORM - RICHIESTA PRENOTAZIONE

---
Podere Spedalone nasce nell'ottavo secolo come luogo di ricovero per i pellegrini diretti a Roma. Situato sulla via Fracigena e perfettamente adagiato fra le crete senesi, dopo un restauro strettamente conservativo iniziato nel 2004 e terminato nel 2006, è oggi il luogo ideale per coloro che desiderano rigenerare spirito, sensi, mente e corpo. Riserva ai suoi ospiti un'accoglienza calorosa, genuina e naturale nelle sue 15 camere, tutte dotate di bagno e attrezzate con i comfort più moderni per accogliere gli ospiti più esigenti, tra queste anche 3 appartamenti con uso cucina. Porte e finestre vi sembreranno quadri d'autore sulla natura che cambiano con il variare delle stagioni mentre vecchi chiavistelli, stufe a legna e pavimenti in coccio originale vi porteranno in un' atmosfera senza tempo. Immersi in un silenzio surreale e paradisiaco e assaporando gli antichi profumi della Toscana ogni giorno potrete scegliere di camminare nel bosco o nei sentieri usati dagli olivetani e dai Templari o di percorrere in auto strade che vi porteranno alla scoperta di incantevoli ed indimenticabili scorci. Sarà sempre un piacere creare per voi itinerari del gusto, storico culturali e sportivi o accompagnarvi personalmente. Ogni sera poi deciderete se essere coccolati dalla nostra cucina e deliziati dal nostro olio durante le cene servite nella grande sala da pranzo con camino. Sono inoltre a disposizione: piscina esterna immersa nei nostri oliveti, area benessere con bagno turco e vasca idrmassaggio, tappeto da corsa Tecnogym, area relax con camino, biblioteca. Vengono inoltre organizzati corsi di yoga, cucina e pittura. Poichè il contadino vive e lavora al Podere sarà felice di condividere con voi le attività giornaliere: lavori nell'orto, oliveto, bosco, allevamento di maiali e bassa corte, raccolta delle olive, funghi, asparagi e frutta a seconda della stagione, passeggiate nel bosco a tracciare caprioli, cinghiali, tassi e istrici.
Il Podere Spedalone è aperto tutto l'anno, provvisto di riscaldamento e di 2 ampie suites per persone diversamente abili.

---
Dove siamo:
COORDINATE GPS: Longitudine 11 38' 21" EST - Latitudine 43 07' 31" NORD Per provenienza da NORD Uscita autostrada Bettolle-Valdichiana Uscire e tenere la destra, proseguire dritto per la superstrada per Siena. Uscire alla prima uscita per Sinalunga, seguire per Petroio, Castelmuzio e continuare verso Pienza. Poco dopo la deviazione per il monastero di Sant'Anna in Camprena svoltare a destra per Cosona/Siena (sp71), proseguite per circa 1.500 lungo strada bianca (non asfaltata). Sulla destra, vicino ad un pino marittimo e prima dell'unico casale, troverete sulla destra un cancello giallo: altri 600 metri e siete arrivati. Strada panoramica - Uscita autostrada Firenze Certosa Superstrada per Siena, poi prendere la strada per Buonconvento in direzione San Quirico. Uscita Torrenieri, attraversare il paese e subito dopo la ferrovia imboccare la vecchia strada per San Quirico. Dopo circa 1 km e mezzo svoltare lungo la strada bianca (non asfaltata ) a sinistra (vedi immagine) per Cosona. Proseguire per 8,7 km, poi svoltare a sinistra dopo il Podere Poggio Ragnuzzi: altri 600 metri e siete arrivati. Per provenienza da SUD Uscita autostrada Chiusi - Chianciano Svoltare a sinistra verso Chianciano/Montepulciano poi proseguire per Pienza e San Quirico. A circa 2 km da Pienza svoltare a destra in direzione di Castelmuzio e Sant'Anna in Camprena. Poco prima di arrivare alla svolta per Sant' Anna prendere la strada bianca (non asfaltata) per Cosona/Siena sulla sinistra (sp71), dopo circa 1.500 mt sulla destra, vicino ad un pino marittimo e prima dell'unico casale, troverete sulla destra un cancello giallo: altri 600 metri e siete arrivati. Distanza dagli aeroporti: Roma km 220 - Firenze km 120 La stazione ferroviaria di Chiusi Chianciano dista km 38 Altre distanze: Siena e Arezzo circa 40 km - Perugia circa 70 km

---
There is a place in Tuscany, nestled among the hills of the "Crete Senesi", where time seems to have stopped. It is an ancient farm dating to Roman times, which bears a name already known to the pilgrims of the 8th Century – Podere Spedalone. A medieval way station, offering shelter and solace to pilgrims traveling to Rome along the Via Francigena, Spedalone was inherited in the 15th Century by the monks of Monte Oliveto Maggiore, who built the ancient terraced olive grove that to this day produces an extra-virgin olive oil of unparalleled quality. Completely restored between 2004 and 2006, Spedalone today is the ideal place to rejuvenate your spirit and body. Here, you will savor silence and a sensation that time moves more slowly.

A simple and genuine hospitality will greet you as you relax in one of its 15 rooms; each with en suite bathroom, central heating and other modern amenities to meet the needs of the most exigent guest, and among which 3 apartments with kitchen and 2 suites for disabled guests.The rooms have been carefully restored
with original floor tiles and wooden ceiling beams, and added charm of antique furniture and latches and woodburning stoves. The rooms' large windows open out to the ever changing landscapes of the softly undulating hills of Tuscany's countryside, like frames of living paintings of nature. You can enjoy a swim in
the pool situated in the olive grove, a workout on our Technogym treadmill, a relaxing jacuzzi bath or purifying Turkish bath; indulge yourself in an ayurvedi massage or simply relax in the library or conservatory.

Immersed in an oasis of tranquility, you can wander along the ancient many paths that lead from the farm and were once traveled by the Templars and Benedictine monks; drive along the country roads that lead to enchanting vistas; savor the atmosphere of another age; and sit and listen to the concert of nature. Porcupines, badgers, pheasants, deer, boar and hoopoes will be your orchestra. We can create an itineray designed to meet your interests, whether cultural, gastronomic or sporting, and, should you wish, are happy to accompany you on these visits.

In the evening, the communal dinners prepared by Giancarlo, its farmer and resident owner, using the farm's produce and served in the large dining room with fireplace, offer a moment of conviviality when fellow travelers share stories and recipes.

We can also offer you classes on the Philosophy of Spedalone's kitchen, yoga and painting. Giancarlo is always happy to share his daily activities with you: gardening, picking olives, looking for wild asparagus and mushrooms in the woods, feeding the pigs, collecting fruit, animal tracking, bird spotting...

Spedalone is open year round
---
Where we are:
COORDINATE GPS: long 11 38' 21" EST - lat 43 07' 31" NORD From the north: exit the highway (Autostrada A1) at Bettole Valdichiana. Exit to the left, then take a right towards Sinalunga, then towards Petroio, Castelmuzio in the direction of Pienza; 0.5 km after you pass the turn off (on the right) to the Monastery of Sant'Anna in Camprena, take a right on a dirt road (SP 71) towards Siena; proceed for 1.5 km, make a right at the maritime pine tree just before a solitary farm house (Podere Poggio Ragnuzzi), onto a small dirt road with a yellow metal gate set back from the road; proceed 0.6 km and you have arrived. Panoramic route from the north: exit the highway (autostrada A1) at Firenze Certosa. Take the highway to Siena, then the road for Buonconvento towards San Quirico; exit at Torrenieri, cross the town; after the railroad track, take the old road towards San Quirico; after about 1.5 km, take the dirt road on the left toward Cosona, continue for 8.7 km, then turn left after Podere Poggio Ragnuzzi (see above), proceed 0.6 km and you have arrived. From the south: exit the highway (Autostrada A1) at Chiusi Cianciano. Proceed left towards Chianciano, Montepulciano; take a left towards Pienza, continue towards San Quirico. About 2 km beyond Pienza, take a right on the road for Castelmuzio and Sant'Anna in Camprena. 0.5 km before the turn off to Sant'Anna, take a left onto a dirt road (SP 71) towards Siena; proceed for 1.5 km, make a right at the pine tree just before a solitary farm house (Poggio Ragnuzzi), onto a small dirt road with a yellow metal gate set back from the road; proceed 0.6 km and you have arrived. Spedalone is: 120 km from Rome and Florence Airports 25 km from the Chiusi Chianciano train station 40 km from Siena and Arezzo 70 km from Perugia.
Podere Spedalone
Strada per Cosona Pienza, Pienza, SI, Italy