Hotel Belvedere San Leonino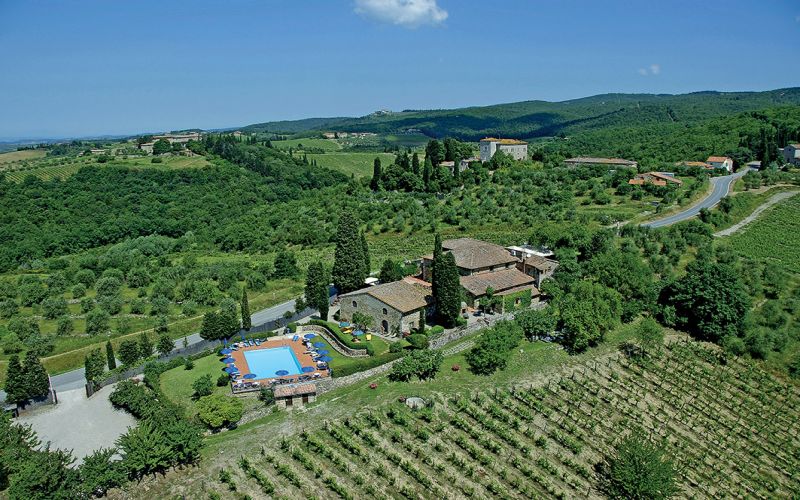 BOOKING FORM - RICHIESTA INFORMAZIONI

---
Hotel Belvedere San Leonino:

San Leonino è un antico casale del 1400 recentemente convertito in Hotel senza cambiarne i caratteri architettonici e l'atmosfera originale.
Si trova nei pressi dell'omonima pieve medievale, circondata da boschi e pinete, vigne e oliveti, gode di un panorama a 360 gradi che spazia da
Siena fino a Volterra e San Gimignano, sulla valle dell'Elsa.
E' nel cuore della regione del Chianti, la terra del famoso vino del Gallo Nero.
Siena dista circa 15 minuti , Firenze circa 50, il litorale del Mar Tirreno poco più di un'ora.
Molti dei nostri ospiti usano San Leonino come base per escursioni giornaliere al mare, alle città, ai musei della Toscana e dell'Umbria.
Altri preferiscono il riposo, il silenzio e la quiete delle colline toscane, che qui mostrano tutta la loro celebrata bellezza.

San Leonino vi offre 29 camere, tutte con bagno privato e aria condizionta.
Un'ampia piscina è a disposizione degli ospiti.
La prima colazione servita a buffet. Il nostro ristorante "Il Cortile" offre deliziose cene con un menù à la carte.
---
Dove siamo:
Arrivare Da Nord: Autostrada A1, uscita Firenze Impruneta; Superstrada Firenze-Siena uscita Badesse, prendere in direzione Lornano-S.Leonino.
Arrivare Da Sud: Autostrada A1, uscita Valdichiana; Direzione Siena prendere Superstrada Siena-Firenze, uscita Badesse in direzione Lornano-S.Leonino.

---
Hotel Belvedere San Leonino:

San Leonino is an ancient farmhouse dating back to the 15th century recently converted into a hotel, without changing the architectural features and the original atmosphere.
Located nearby the homonymous parish Church, it is surrounded by woods and pine-forests, vineyards and olive-groves; the 360 degree panorama embraces Siena, Volterra and San Gimignano, on the Elsa Valley.
Situated in the heart of the Chianti region, the land of the famous Gallo Nero wine.
Siena is about 15 minutes, Florence 50, the Tirrenian coast is slightly more than an hour away.
Many of our guest use San Leonino as starting point for excursions to the seaside, to towns and to the museum of Tuscany and Umbria.
Others prefer to relax and enjoy the tranquil, quiet hills of Tuscany that please the eye with their celebrated beauty.

San Leonino offers 29 rooms, all with bathroom and air conditioning.
A large swimming pool bordering our wineyards is for our guests use only.
Buffet breakfast. Our restaurant "Il Cortile" offers delicious dinner with à la carte menu.
---
Where we are:
From North: Highway A1, exit Firenze Impruneta; Superstrada Firenze-Siena exit Badesse, direction Lornano-S.Leonino.
From South: Highway A1, exit Valdichiana;Direction Siena get Superstrada Siena-Firenze, exit Badesse in direction Lornano-S.Leonino.