AZ. AGR. IL MONCHINO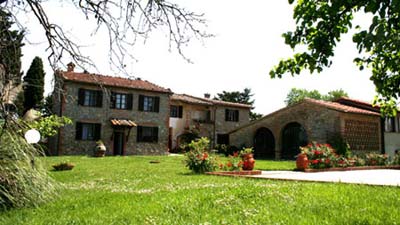 BOOKING FORM - RICHIESTA PRENOTAZIONE

---
Percorrendo la strada panoramica di San Gimignano, a 2 Km. dalla città, circondato dai suoi vigneti ed uliveti, ecco "Il Monchino". In posizione tranquilla e panoramica, l'azienda offre ospitalità in dieci camere con bagno.
Possibilità di: prima colazione; una piscina a disposizione dei soli ospiti; noleggio biciclette; vendita diretta di Vernaccia di S. Gimignano, Chianti, Grappa e olio di produzione propria; dietro preavviso, visita delle cantine e degustazione a soli gruppi.

---
Dove siamo:


---
"Il Monchino" rests in a tranquil position only 2 Kms from the city of San Gimignano. Surrounded by its own vineyards and olive groves it enjoys a marvellous panorama. The farm has ten rooms all with bathroom and offers a warm welcome to its guests.
The farm offers: breakfast; swimming pool for guests only; bicycles for hire; sale of its own production of Vernaccia white wine, Chianti wine, grappa and olive oil; By reservation - groups may enjoy wine tasting and a visit to the farm's cellars.
---
Where we are:

AZ. AGR. IL MONCHINO
Loc. Casale, 12, San Gimignano, SI, Italy