Residence Fattoria di Catignano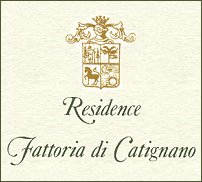 BOOKING FORM - RICHIESTA PRENOTAZIONE

---


RESIDENCE FATTORIA DI CATIGNANO



Nei libri di storia senese si ricorda col nome di "Clatinianum" quel piccolo borgo che sicuramente fu testimone di molta parte della storia della città e che "nel 1554 fu messo a ferro e fuoco da una banda di spagnoli".


Tra le morbide linee di quel paesaggio e giochi di luce suggestivi, tipica ricchezza di questa parte di Chianti senese, armonicamente si inserisce oggi la Fattoria di Catignano che già fu scrigno di vino ed olio rinomati ed i cui proprietari ricevono oggi personalmente i propri ospiti in residenze sapientemente ristrutturate nel rispetto di forme ed architetture antiche.


Chi ama il contatto con storia, arte, e cultura potrà così condividere quelle emozioni che mossero gli antenati ad eleggere questo luogo a loro dimora.


L'accoglienza e le attenzioni familiari faranno poi il resto per rendere il soggiorno senz'altro indimenticabile.



Il Residence è aperto tutto l' anno.






---
Dove siamo:


---


RESIDENCE FATTORIA DI CATIGNANO



In history books about Siena, a small borough is mentioned under the name of "Clatinianum", which was a witness to many events that forged the destiny of the city, and was laid waste by a band of Spaniards in 1554.


Among the gentle outlines of this landscape and its impressive games of light, a typical treasure of this part of the Chianti region, the Fattoria di Catignano blends itself harmoniously with the surrounding environment.

Here, in old times renowned oil and wine were made.


Nowadays the owners welcome their guests personally to apartments masterly renovated in observance of original forms and architectural styles.


Here lovers of history, art and culture can share those emotions that moved our ancestors to elect this place as their home.


The hearty welcome and kind, true attentions you will receive will do the rest to make your stay unforgettable.



The Residence is open all the year.





---
Where we are:

Residence Fattoria di Catignano
Loc. Catignano, Castelnuovo Berardenga, SI, Italy