Hotel Le Roi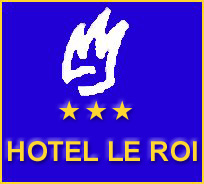 BOOKING FORM - RICHIESTA PRENOTAZIONE

---
HOTEL LE ROI

Ubicazione: L'hotel Le Roi e' situato in zona particolarmente favorevole per i turisti.
Situato a soli 800 metri dal casello autostradale della A10 Genova-Ventimiglia assicura un facile raggiungimento in auto, evitando il traffico delle strade statali, i 15 Km che lo separano da Savona permettono di raggiungere, in meno di un quarto d'ora, il capoluogo di provincia, per i collegamenti aerei segnaliamo invece l'aeroporto di Genova Cristoforo Colombo a soli 25 Km.
Per i momenti di relax a 2 Km troviamo il porticciolo turistico di Varazze e a meno di 10 Km il campo da golf di Arenzano.
Infine se volete rilassarVi completamente e lasciare la Vostra auto nel nostro parcheggio privato, proprio di fronte all'Hotel troverete la fermata autobus per il centro di Varazze e per Savona.

Servizi: Ristorante, Bar, Telefono Fax & E-Mail, Parcheggio privato, Mini bar, Televisione anche via satellite, Accesso facilitato per portatori di handicap, Filodiffusione, Idromassaggio, Piccoli animali, Ascensore, Riscaldamento, Aria Condizionata.

---
Dove siamo:


---
LE ROI HOTEL

Location: The Le Roi Hotel is situated in a zone which is particularly convenient for tourists.
The hotel is situated only half a mile (800 m) from the Genoa-Ventimiglia highway (A10) toll-booth, thus ensuring easy access by car, and avoiding the traffic on the national roads.
Being only 15 km from Savona, this provincial capital can be reached in less than a quarter of an hour.
For airport connections, the airport Cristoforo Colombo, in Genoa, is only 25 km away.
For some relaxation, Varazze's marina is located at a distance of 2 km and Arenzano's golf course at less than 10 km.
Finally, in case you decide to relax completely and leave your car in our private parking lot, you'll find the bus stop for downtown Varazze and for Savona right in front of our hotel.

Services: Restaurant, Bar, Telephone Fax & E-Mail, Private parking, Mini bar, Television also via satellite, Handicap access, Cable radio, Jacuzzi, Pets, Lift, Heating, Air conditioning.
---
Where we are:

Hotel Le Roi
Via Genova, 43, Varazze, SV, Italy