Hotel Villa Centa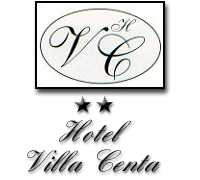 BOOKING FORM - RICHIESTA PRENOTAZIONE

---

HOTEL VILLA CENTA


UBICAZIONE: Antica casa in stile liberty completamente ristrutturata, a 100 metri dal mare in posizione veramente tranquilla.

Ambiente moderno e accogliente offre una raffinata ospitalitÓ.

CAMERE: Camere con servizi, telefono diretto, televisione e vista mare.

SERVIZI:

Sala ristorante panoramica, sala bar, solarium, giardino, garage, colazione a buffet, biciclette, biblioteca.
Aperto tutto l'anno e condotto direttamente dai proprietari.



---
Dove siamo:


---

VILLA CENTA HOTEL


LOCATION: Ancient building liberty style, completely renewed, situated in a very quiet position, 100 mt. from the sea.

Modern and confortable environment; it offers a refined hospitality.

ROOMS: Rooms with view on the sea, bath/shower, direct-line telephone, television.

SERVICES:

Dining room with panoramic view, bar, solarium, garden, car box, buffet breakfast, bicycle, library.
Open all year round and managed by the owners.


---
Where we are:

Hotel Villa Centa
Via XXIV Aprile, 33, Varazze, SI, Italy