Hotel Gioiello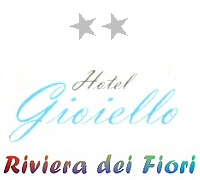 BOOKING FORM - RICHIESTA INFORMAZIONI

---
HOTEL GIOIELLO





UBICAZIONE: L'Hotel Gioiello è situato in una magnifica posizione, tranquilla e a soli 5 minuti dal mare. Comoda anche la vicinanza della Stazione Ferroviaria di Varazze.

CUCINA: Gustosa la cucina e con un fortissimo sapore "ligure".

CAMERE: Tutte le camere sono dotate di servizi privati, TV color e linea telefonica diretta.

ALTRI SREVIZI: Parcheggio clienti. Aperto tutto l'anno. Si effettua servizio meublè a lunghi periodi.






---
Dove siamo:


---
GIOIELLO HOTEL





LOCATION: The Gioiello Hotel is situated in a wonderful place, calm and only five minutes far from the seaside. The closeness to Varazze's Station is confortable.

CUISINE: Agreeable is the cuisine and with a very strong Ligurian taste.

ROOMS: All the rooms are equipped with private toilets, TV color, telephone.

OTHER SERVICES: Open all year long. There is a private car park.





---
Where we are:

Hotel Gioiello
Via Villagrande, 31, Varazze, SV, Italy
Tel. +39 019934663
Fax. +39 01998021
Contact: info@albergogioiellovarazze.com
vedi anche: http://www.albergogioiellovarazze.com/