Hotel Elda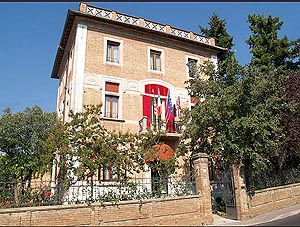 BOOKING FORM - RICHIESTA PRENOTAZIONE

---
Hotel Villa Elda a Siena città d'arte e cultura, è situato in zona centrale, consentendo di raggiungere in pochi passi Piazza del Campo e i maggiori luoghi di interesse turistico della cittadina toscana.
Villa Elda si distingue dalle altre strutture ricettive presenti nella città di Siena, per l' eleganza e lo charme riconoscibile fin da subito nell' architettura in tipico Stile Liberty; per i servizi offerti e soprattutto per gli ambienti interni che offrono calore ed un meraviglioso panorama sulla città di Siena.
Hotel Villa Elda dispone di un' ampia terrazza panoramica, dove i clienti possono osservare un romantico scorcio di Siena e della sua atmosfera storica, e dove a richiesta si possono consumare indimenticabili cene romantiche. Inoltre sarà possibile fare colazione nell' elegante sala o nel giardino circostante la Villa. La sua ospitalità è resa particolare ed unica dal colore delle camere in stile Liberty, allestite curando l' estetica in ogni particolare dell' arredamento, per creare luci e atmosfere di rara eleganza e charme. Inoltre le camere dell' hotel Villa Elda dispongono di condizionamento d' aria, telefono, bagno privato e cassaforte.

---
Dove siamo:


---
Hotel Villa Elda in Siena, city of art and culture, is situated near the town centre, Piazza del Campo and all the intresting turistic sites can be easily reached on foot in few minutes.
Some rooms offers a view on the town centre, the others on the flowered garden, where it is also possible to have your breakfast. Every room has its private bathroom, telephone, satellite tv, air conditioning and safe. Lights and colours creates different chromatisms at any time of the day. Even if we know that our guest will spend most of their time visiting Siena, we suggest to enjoy the atmosphere of our Villa.
At the reception desk you will always find kindness and availability, we would be glad to give you all the informations you need about restourants, surroundings, organization of Chianti Tours, Smart cars and bikes renting, and so on. Also, we should offer you exciting tours on private areoplanes around the region.
---
Where we are:

Hotel Elda
Via XXIV Maggio, 10, Siena, SI, Italy